Data Erasure
You can be 100% confident that your data has been erased before the hardware leaves the building. Or as we say "Secure before it leaves the door".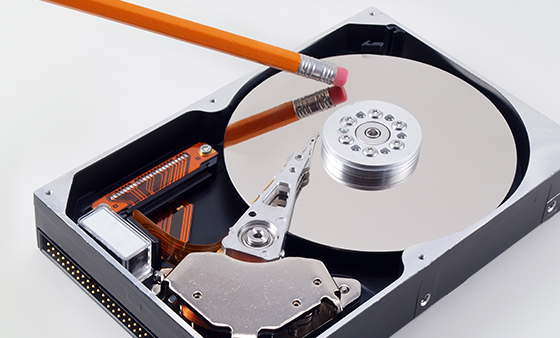 Our centralised management portal provides you with
Full inventory of the hardware which is having its data erased
Centralised management of licences and clients
Transparent job creation, allocation and order processing
Automatic software updates
Real-time data and business intelligence
Implementation into your existing system landscape
Individually adjustable erasure, audit and hardware reporting
With three solutions we can fulfil your data erasure requirements.
Technical Specifications:
Erasure
Up to 200 HDDs erased simultaneously
Both BIOS & UEFI type host
Block devices supported by the erasure engine: SSD, IDE, SATA, SCSI, SAS, Fiber Channel, USB and RAID volumes
Additional customized level of erasure verification supported from 1% to 100%
Supported erasure patterns (13):
Standard Overwrite
British HMG 155 Baseline
Russian GOST R 50739-95
NSA 130-2
British HMG ISS Enhanced
US DoD 5220.22-M
NCSC-TG-025
Navso P-5329-26
US Air Force 5020* Bruce Schneier
Canadian OPS- 11
German VSITR
Gutmann Algorithm
Secure Audit & Reporting
Generated and securely transmitted erasure reports: PDF, XML, HTML, XLS
Certified mechanism for data integrity checking during transmission
Certified erasure events auditing mechanism
Embedded erasure verification tool (hexviewer) to visually check the erasure results directly on the block device
Dual option for erasure report delivery: on directly attached storage device (USB drive) or to remote management server
Information Security Certification
Common Criteria (ISO/IEC 15408) EAL3+
NCSC Data Sanitisation – Overwriting Tools for Magnetic Media Version 2.1
Data Shredding
If Data erasure is not an option Belvedere Group offer Data Destruction through our disk and tape shredding plant, we can destroy up to 1 ton per hour and provide video footage.
Start a conversation with our trusted experts
We are ready to listen. Please call us now on
+44 (0)1527 359 045
.
Alternatively complete our contact form by clicking the link below.
Contact us